Guess who the newest oral historian is at the House of Representatives!! :)
Current Mood:

giddy

Current Music:

"Big Bang Theory Theme" - Barenaked Ladies
Current Mood:

artistic

Current Music:

"Sparkling Diamonds" - Nicole Kidman
had to! Otherwise, I'd still be working on some way to make this thing look better by playing around with colors and fonts.

But I'm satisfied with how this turned out. I did have a little trouble for a while getting my header to fit the way I wanted. I had to go into photoshop several times to play around with the image size. You should see how many of these headers are uploaded into photobucket! I seriously had at least 5 in there!

In other news, I have gotten a part-time job. It's at the Barnes & Noble in Camp Hill. I'll start on Monday...well, I'll have my orientation then. So, that's something to look forward to. Still no news on the House job though. But it's only been a week...

Anyway, my neck is killing me after all of this journal-making. Please tell me what you think of my new "Across the Universe"-inspired layout!!!!!

Oh, and Jen, I WILL call you back soon!!!! I've just been kinda busy! :)
Wow. So what do you guys think of my journal makeover? After days or weeks of searching for a new layout and finding nothing even remotely close to what I wanted, I finally decided to take matters into my own hands. I first made the header all by myself! I know it's not really fancy or anything but I'm a bit of a photoshop virgin, so I took it easy. Just put one texture on it and then the text from the song "Across the Universe." Pretty simple, actually. Then I just played around with the layouts that LJ already had until I had all the colors perfect...and of course, I did put a few overrides in there! I
Current Mood:

accomplished

Current Music:

"Oh! Darling" - Dana Fuchs & Martin Luther McCoy

By HILLEL ITALIE, AP
Sat Oct 20, 12:37 AM EDT

Harry Potter fans, the rumors are true: Albus Dumbledore, master wizard and Headmaster of Hogwarts, is gay. J.K. Rowling, author of the mega-selling fantasy series that ended last summer, outed the beloved character Friday night while appearing before a full house at Carnegie Hall.

After reading briefly from the final book, "Harry Potter and the Deathly Hallows," she took questions from audience members.

She was asked by one young fan whether Dumbledore finds "true love."

"Dumbledore is gay," the author responded to gasps and applause.

She then explained that Dumbledore was smitten with rival Gellert Grindelwald, whom he defeated long ago in a battle between good and bad wizards. "Falling in love can blind us to an extent," Rowling said of Dumbledore's feelings, adding that Dumbledore was "horribly, terribly let down."

Dumbledore's love, she observed, was his "great tragedy."

"Oh, my god," Rowling concluded with a laugh, "the fan fiction."

Potter readers on fan sites and elsewhere on the Internet have speculated on the sexuality of Dumbledore, noting that he has no close relationship with women and a mysterious, troubled past. And explicit scenes with Dumbledore already have appeared in fan fiction.

Rowling told the audience that while working on the planned sixth Potter film, "Harry Potter and the Half-Blood Prince," she spotted a reference in the script to a girl who once was of interest to Dumbledore. A note was duly passed to director David Yates, revealing the truth about her character.

Rowling, finishing a brief "Open Book Tour" of the United States, her first tour here since 2000, also said that she regarded her Potter books as a "prolonged argument for tolerance" and urged her fans to "question authority."

Not everyone likes her work, Rowling said, likely referring to Christian groups that have alleged the books promote witchcraft. Her news about Dumbledore, she said, will give them one more reason.
J.K. Rowling Outs Hogwarts Character
Current Mood:

shocked
Current Mood:

aggravated

Current Music:

"Memory" - Sugarcult
I have been accepted at Penn State Harrisburg for graduate studies! Yay! I'll be starting classes in January. I've already registered for American Studies 500, Theory and Method, and I forget the other number but it's Gender and Culture. I don't really know what to expect...like what the courseload will be like. Hopefully it won't be too hard! The classes are incredibly small. 20 people can be in each class and there's still 15 seats left in both. 5 people in each class is nerve-racking. Hell, only 20 people per class is bad enough! I had no problem with small classes when I was at HACC, but I enjoyed being able to hide in the bigger classes at PSU. Now in grad school, I won't be able to hide. Small classes will mean that I need to have done all the reading and need to have opinions on it cause I will definately be called upon! Ugh, I am not looking forward to that!
In other news, I have a job interview at the PA House of Representatives next Thursday. I'm super excited about that...I hope it goes well! I really want this job. I'd much rather work in the archives than at Barnes & Noble (who actually haven't even contacted me for a freaking part-time job! Geez!) or Borders (who also have yet to contact me!). In this interview, what I lack in experience and education, I'll have to make up for with...personality, haha. So basically I'm screwed. I wonder how many interviews I'll have to go through before being offered a job...Bankers and Enterprise had 3 interviews. But maybe this will only need one...the woman I'm meeting is the head of the project and is in charge of all the hiring. So maybe I'll only have to go on this one. Hopefully. I'd love it if I could walk in there, give one hell of an interview, then be offered the job at the end. That would be ideal...but not very probable.
Anyway, that's all the news I have. Since I'm bored, I've decided to take a few quizzes, how about taking a look-see!
(
Here!
Collapse
)
Just wanted to post a really quick update!
Current Mood:

excited

Current Music:

"D.O.A." - Foo Fighters
Other than a potential job with the House of Representatives, there is one other bit of exciting news. I'm going back to school. I just applied for grad school at PSU Harrisburg. I'll be a non-degree student in the spring, but I can still take the grad courses I need to get an MA in American Studies. This just gives me a little bit of time to get everything organized. Taking the GRE isn't required but Dr. Ross, the professor who represented the American Studies program told me that it might benefit me. So I'll study for that for a bit, take it, possibly retake it, start classes then get some of the professors to write me recommendations for my grad school application. So then hopefully by the summer I'll officially be a graduate student. American Studies isn't exactly what I imagined studying in grad school, but it's the closest thing that Harrisburg has to history...and PSU Harrisburg is basically the only university in at least a 50 mile radius with any graduate programs. Oh, and the university will be expanding the MA into a Ph.D. program in about 3 years. So if I decide to go for that, then that option is open to me as well.
So that's about all for me with school and work. I'm still struggling with what to do
after
all of that, and, well, I'll probably end up in NYC. I'm trying to come up with some bullshit thesis about the culture of New York City. I have a few ideas thus far. But you know what? I've decided to let the future where it is. I'll worry about it when I get there. I've been trying to mellow myself out a little more lately. It's really not working, but I'm persisting.
Because I've spent so much time
not
"blogging," I thought I'd provide a list of my current obsessions; things which have kept me from telling you what has been going on in my life.
(
My Obsessions
Collapse
)
Wow. It has been quite a few months since I've last updated for you, my dear - but few - readers. So what has been going on in my drama-filled life? Absolutely nothing! While it feels pretty damn good to say that, I have to admit, I'm bored out of my fucking mind! However, I do have some job prospects. I met someone the other night at Penn State Harrisburg's graduate info night who told me about a job in the archives she works at. It's a job as an oral historian, no MA required. Which is...basically a relief to me. But the best part of this job is who I'd be working for. And trust me, this is pretty damn impressive. The House of Representatives. So tomorrow I have to call this girl, Erin, and talk to her about the job. Since my car goes into the garage tomorrow and for the next few days (leaving me stranded! Ugh!), I may need to have Erin send the application to my house, as opposed to me going to the archives and picking one up.
Current Mood:

bored

Current Music:

"If I Fell" - Evan Rachel Wood


Graduating from college sucks because everybody (and I seriously do mean everybody: your neighbors, parents' coworkers, family, advisors, the clerk at Party City who figured out that you're graduating due to the massive amount of graduation party stuff that you are buying...) asks that one question: What's next? It's not so bad if you actually have something planned, whether you're going to grad school in the fall or you have a job lined up already, but when you don't and you answer "Who knows." to that question, you get that awkward "Oh..." in response. And let me tell you, that "Oh..." sucks. Big time. With me though, it's not exactly like I don't have a plan. I do. Well, sort of. As most of you know, I want to go to NYFA for the year-long screenwriting program. Trust me, I've thought this through. It'll take me at least a year to make enough money to pay for tuition, rent, and other living expenses. I still might have to take a loan out. But whatever. I want to go. I want to do this. If I don't, I fear that I will regret it for the rest of my life. And this isn't one of those, "I wish I had bought that dress because it would have been perfect for this occasion" regrets, this is one hell of a big regret. I'm very much aware that my chances of success after leaving NYFA are very slim. I know this. Afterall, I'm not a complete idiot. But besides throwing away at least $40,000, what would this hurt? I could say I pursued my dream. I would have the experience of living in New York City for a year. I would have met all kinds of wonderful new people. The money is irrelevant. Whether or not I become a successful screenwriter will have no impact on the time I spent at NYFA. Of course I wish for myself that I would become successful, and that I can move out to LA and get a house right on the beach, but I'm still trying to be realistic about all of this.

The other day my neighbor stopped me and asked what I was going to do now that I am a college graduate. When I told her about film school, she laughed. And if that wasn't all, she then asked what I majored in and then proceeded to tell me about her nephew's girlfriend who also majored in history who can't find a good job, because "you can't do anything with that degree." I can't remember a time in my recent history when I have been more offended than I was at that moment. There are all kinds of rude things I could have said in return, but I kept my mouth shut. But I am now more determined than ever to go to film school and make it. Fuck everybody who doesn't think that I can do it because I can.

Maybe those words will haunt me someday, but let's hope that they won't. If I don't go to film school, what are my other options? Stay around here and get a job with the state? I'm not in any way saying that working for the state is a bad thing, I just don't think that it is for me. I know that it's the expected route for me. Work for the state. Get the amazing benefits so I can retire early. Start a family. Okay, fine, whatever. I'm nearly ready to settle down and start a family, but not until I go to Manhattan. If I start a family in a few years, without having gone to film school, I'll probably end up hating them for holding me back because I did what was expected of me, not what I wanted to do.

I should probably wrap this up because I'm getting to the point where everything I type seems redundant. It's not that I'm finished saying what I need to, I've just lost my train of thought. I need to think about this more before really finishing. And besides, I think this blog is long enough for now. I'll probably write more on this in the next few days, especially since my graduation party is on Saturday and I'm sure to get pissed off from everybody asking me that one stupid question.
To be perfectly honest, I am not enjoying post-graduation life as much as I probably should be. Don't get me wrong, the thought of never having to take another exam or write another 15 page term paper is great, but it's just that suddenly I have been thrust into this world of self-doubt and uncertainty. I know that for the past five years I was supposed to be figuring out what I was going to do at this moment, and for a while, I thought I had it all figured out. But life happens. Things change. You change. And let me tell you, I most certainly changed.
Current Mood:

frustrated

Current Music:

"Honestly" - Cary Brothers
I saw Rooney last night at the Chameleon Club in Lancaster...same place I saw Joshua Radin at last August. Um...AMAZING! Stupid ass me forgot my camera though. So I had to try to take pics with my cell phone...they didn't turn out so great. But it was great to see my dearest Robert up close (haha). And my god, he is even more gorgeous in person...and charismatic...and just wonderful. Haha, I'm going into fantasyland right now. They didn't have a meet and greet after so I didn't get to meet them...BUT...this is cool...Ned, the drummer of Rooney came up to the over-21 level of the club and was hanging out during the second opening band's set. And Ned was listening to Kingsfoil and to see them, he was leaning over my shoulder! Haha, how awesome is that? And then after that, someone who was standing by my friend Bri left and so Ned stood by her for a while to watch Kingsfoil's set. She didn't really know anything about Rooney so when he moved over by her I whispered to her who he was and she started laughing cause she almost asked him if he knew the name of the second band, cause we couldn't figure it out. Anyway, below is a pic from www.rooney-band.com of Ned and Robert! Not from the Lancaster show though.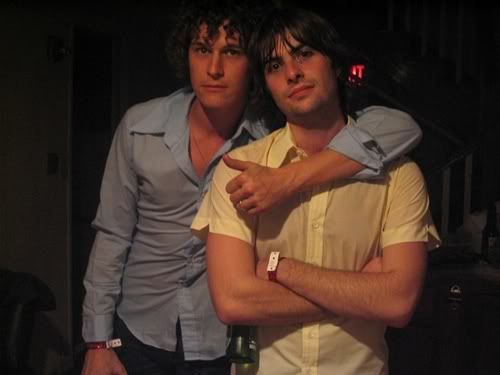 Rooney had a great set, mixing some of their older songs from their first cd with new songs from the upcoming album, due out in July. Unfortunately they didn't play one of my favorites by them, "Stay Away." They did an encore but only played one song and it was "Sorry Sorry." Bri really enjoyed that song! Overall, it was a great night. I had a good time making fun of these three little teeny-boppers who were right in front of the stage, all with their red Rooney bags planted on the stage so the band could see them. They had to be sixteen or so. Silly teenagers. And then the rest of the under-21 floor was filled with OC-wannabe's.
I think that might be all I wanted to say about last night. Great, great night. Only things that could have made it better were me remembering to take my camera and then meeting Robert, haha. But I'll try to make those things happen the next time I see Rooney!
In other news, I am a Penn State graduate! Yep, I have graduated college! It's a weird sensation. I have that feeling of "what's next?"; that uncertainty, nervousness, etc. And of course everybody now asks if I have a job lined up or if I'm going to grad school in the fall and the answer to both questions is no. I'm in no rush, really. I do need to work on the job thing though, so I'll have health insurance! Wow, saying that makes me feel old. I have to worry about having health insurance now. What. The. Hell.
Well, I should probably wrap this up...I promise to write more soon and get more detailed about post-Penn State life!!
So.
Current Mood:

amused

Current Music:

"She Is Glamorous" - Fergie vs. The Fray
Isn't he beautiful? Hahaha. It's Robert Scwartzman, actor, lead singer of Rooney, and brother of Jason Schwartzman. He's amazing!
Here is my latest obsession...
Current Mood:

okay

Current Music:

"Back To You" - Coconut Records